CITIZEN OF THE YEAR
The Hilton Village Board seeks nominations to recognize our outstanding individuals who has unselfishly served the Hilton / Parma community. This selection is made by secret ballot and the decision is based on volunteerism, community involvement and all around good spirit.
2020 Citizen of the Year
James Mullen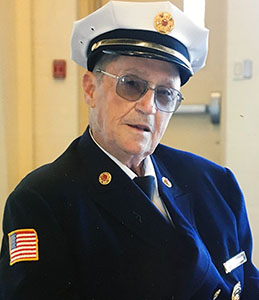 As we all know due to the Covid-19 Pandemic last year, many things were put on hold until family and friends could come together again.
On March 3rd, 2020 the Hilton Village Board selected James Mullen, posthumously as their 2020 Citizen of the Year.
Jim was active in our community on so many different levels, he was an active member of the Hilton Fire Department where he rose through the line officer ranks and became Chief for two years. Jim received life saving awards for his actions at a fire call he and his son, Glenn were the first to arrive on the scene to, he was active in the Hilton Exempt Club, worked the Hilton Fire Department Carnival until his health issues restricted his duties.

Jim also served as Fire Marshal and Building Inspector for the Village of Hilton and Town of Parma, was an active member of the Hilton Baptist Church where he served on several committees and was involved in many local events and functions.
When Jim moved to Unionville with his wife Saralynne, he became involved with the HOA there.
You could always catch Jim riding his power chair throughout the Village, even on the snowiest of days.
In June of 2021, Jim's family were able to come together to honor Jim.
Thank you to the Mullen family for sharing Jim with all of us in the Community
| | |
| --- | --- |
| | Hilton Citizen of the Year Recipients |
| 2022 | Rick Holden and the Volunteers of the Hilton Food Shelf |
| 2021 | Tom Smith |
| 2020 | James Mullen |
| 2019 | Walt Horylev |
| 2018 | Pat Johnson |
| 2017 | George Heinrich |
| 2016 | Charlie Kimball |
| 2015 | Tom Scheg |
| 2014 | Tina and Mike Zebulske |
| 2013 | Linda Viney |
| 2012 | David Tresohlavy |
| 2011 | Kay Melvin |
| 2010 | Robert Martin & Thomas Hunte (in memory of their father Fredrick Hunte) |
| 2009 | Thomas Burger |
| 2008 | Sharon Prince |
| 2007 | David Goodrich |
| 2006 | Pastor Albert Zoller |
| 2005 | John Duggan |
| 2004 | Rick Furnal |
| 2003 | Doug Hurlbutt |
| 2002 | John Barclay |
| 2001 | Alexander Howe |
| 2000 | Mary Lane, Ann Doan, Patricia Brotz |
| 1999 | Edward (Bud) Hendershot |
| 1998 | Carm Carmestro |
| 1997 | Wilbur Hermance |
| 1996 | Herb MacNaughton |
| 1995 | Homer Marple |
| 1994 | Frank Hutchison |
| 1993 | Brayton Miles & Barbara Miles |
| 1992 | Josie Waverly |
| 1991 | Herb Trimmer |
| 1990 | Gordon Bascom |
| 1989 | Ron Gosnell |