Village of Hilton Election for Trustees
Results of the September 15th Election (Vote for 2)
Shannon E Zabelny - 219 votes
Sherry A Farrell - 217 votes
Maureen Spindler - 210 votes
Scattering - 0 votes
Blank - 98 votes
Void - 0 votes
Total number of votes: 744 votes
Shannon E Zabelny and Sherry A Farrell, by the greatest number of votes, are hereby elected to the office of Village Trustee in and for the Village of Hilton.
---
Notice to Hilton-Parma Residents Updated
The Village Board of Trustees have decided to keep the Community Center and Jennejahn Lodge closed until October 31, 2020. They will evaluate the COVID-19 situation and update this notice as needed.

There is a drop box outside at the community center for your convenience. Please call 392-4144 if you have any questions.
---
ENVISION HILTON 2030 – COMPREHENSIVE PLAN -
The Village of Hilton Comprehensive Plan Steering Committee is currently drafting a new Comprehensive Plan entitled 'Envision Hilton 2030'. A comprehensive plan serves as the guiding document for a community' long-term decisions on issues including land-use, capital investment, operational changes, and other issues that will drive a community's future.
Read more
...
---
The 7th Annual Hilton's Classic Wheels on Main Street scheduled for Saturday August 15th has been cancelled. Read more...
---
Annual Water Quality Report for 2019
---
Monroe County, Westside Towns and Villages to host Household Hazardous Waste Collection
Monroe County Department of Environmental Services and the Towns of Clarkson, Hamlin, Ogden, Parma and Sweden and the Villages of Brockport, Hilton and Spencerport will partner to hold an appointment-only Household Hazardous Waste (HHW) collection at the Village of Hilton Highway Garage, 50 Henry St., Hilton, NY 14468, on Saturday, October 31, 2020 from 7:45 a.m. to 12 noon.
---
Monroe County / Waste Management ecopark will reopen to residents on Wednesday, June 3 at 1 PM.
Ecopark Latest Info | Revised Facility Rules
---
James (Jim) Gates – Village Trustee 1996-2020 - It is with great sadness, we share the sudden passing of our long time Village Board member, Past Fire Chief of the Hilton Fire Department and lifelong community member, James Gates.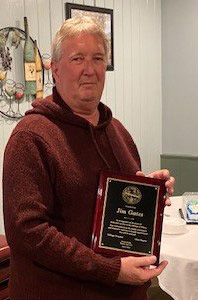 Jim Gates
Jim has been currently serving on the Village Board of Trustees since April 1st, 1996. Within those 24 years, Jim had served as Vice-Mayor and held different seats on committees throughout the years always working for the enrichment of the Hilton community. Jim had a significant working relationship with all the employees at the Village of Hilton and he will be missed dearly by all of us here.
Please keep his wife, children, and grandchildren in your thoughts and prayers during this very difficult time.
---
Notice of Water Daily Rate Increase
The Village of Hilton will be increasing the water daily rates for accounts with meters larger than 3/4", effective April 1, 2020. View the Legal Notice for more info...
---
Trash, Recycling and Coronavirus
We are all concerned about the effect of coronavirus or COVID-19. This virus has interrupted our lives in ways we had never imagined possible. Monroe County is asking residents to keep in mind Garbage and Recycling workers – both private and public – who continue to provide this valuable service to Monroe County businesses and residents every day. For now, garbage and recycling collection is operating on normal schedules. Any changes to this will be communicated from your hauler. View flyer with more info...
---
Community Center Update:
The Hilton Community Center will be closed to the public as of Friday March 20, 2020 at 6:30 p.m. until further notice except for essential business.
Village Office:
Is closed to the public until further notice. Payments or correspondence may be mailed in.
Department of Public Works:
Refuse and Recycling schedule will continue on your normal pick up day.
Food Shelf:
IMPORTANT NOTICE FOR FOOD SHELF CLIENTS, you must call ahead for an appointment at 234-2090.
Hilton Community Childcare WILL remain open, if you have any questions please call 392-5060.

---
---
Statement from the Village of Hilton:
The Novel Coronavirus 2019 (COVID-19) continues to make headlines as news of cases in the United States and other countries are reported. The Village of Hilton, in conjunction with the Monroe County Department of Health, is monitoring this developing situation.
The Village of Hilton will be performing essential services only with reduced staff in both the DPW and Office. The Village Office is closed to the public, residents can call the office at 392-4144 or email at voh@hiltonny.org. Business transactions can still be completed through the mail, Dropbox or phone call
Please allow us to reiterate that the safety of our community is of the utmost importance and we will act out of an abundance of caution to protect everyone's health and wellbeing.. Read more...


---
Village of Hilton Newsletter
- October 2019
---
Door to Door Sales, Vendors and Solicitors - It is the time of year when peddlers, vendors and solicitors go door to door, drive around neighborhoods or set up sales on a corner in our community. The Village of Hilton requires a permit for these kinds of sales and solicitations. Local, non-profit, community groups are exempt from this local law, however; commercial groups including marketing companies who hire contractors to promote businesses in and outside our area must register and obtain a license. For everyone's safety and protection, ask to see their permit and identification, please report any instances of peddling or suspicious activity to your local Municipal office or call 911.
Shari Pearce, Village of Hilton Manager/Clerk
---
Safety Alert for Carbon Monoxide Poisoning
---
Is your home really safe when you leave or even when you are home? The Monroe County Sheriff's Office offers many
tips on Home Security to keep your home, you and
your loved ones safe! If you are concerned or suspicious of anything or anyone, do NOT hesitate to call 911. View the flyer.
---
Hilton-Parma Recreation Brochure - View the latest brochure
Pay Taxes and Water Bill Online... click to pay online